Since the release of Cintra Cloud our product designers have been conducting ongoing user research to ensure that we continue to develop our software to meet the needs of our client's. This has resulted in the development of important features to help give users what they need, quickly and easily. The pay variance indicator is one example of such a feature; simple but extremely effective.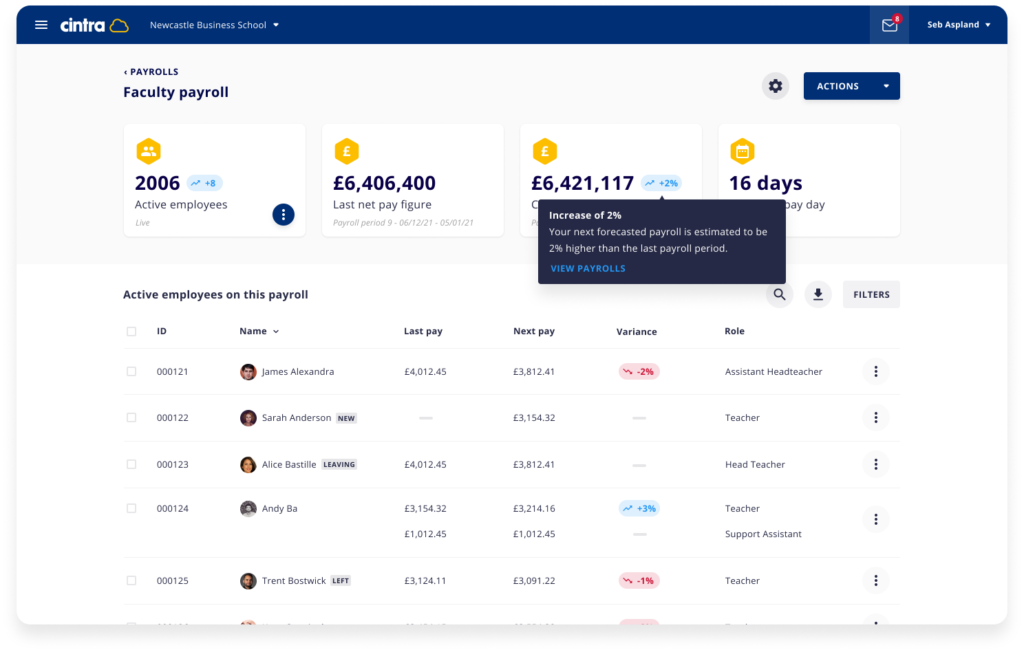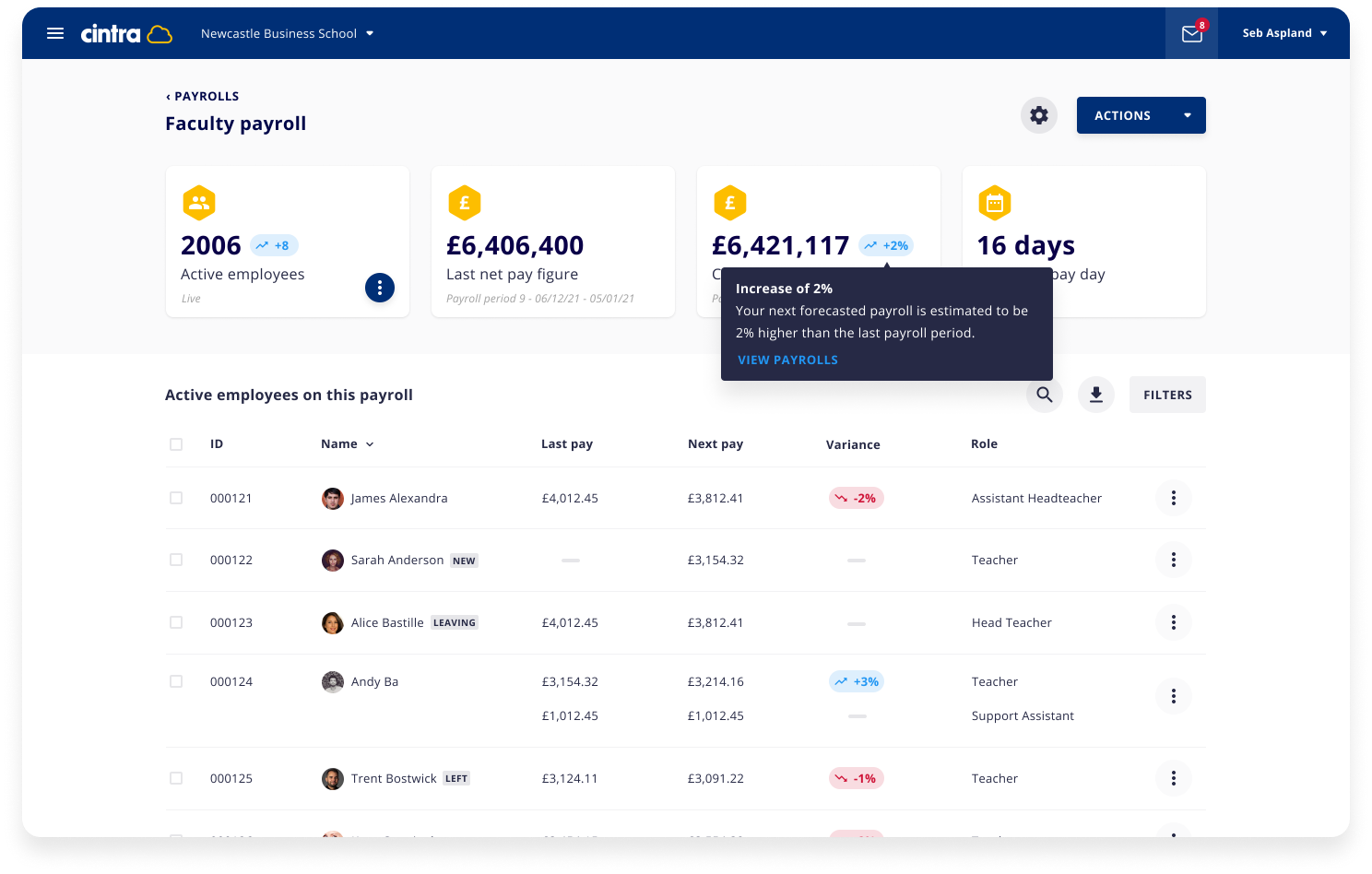 The pay variance indicator feature developed from us seeking to understand:
What information is key for users to carry out their role efficiently and effectively?
How do users engage and interact with a payroll – or multiple payrolls?
in order to improve the user experience and develop a product that met and exceeded expectations. To answer these questions, we learned more about our user's workflow, processes, goals and the current challenges they face. From this, we were able to clearly define the problem and design a solution to solve it. The end result is a feature which is both easy to use and offers an efficient and effective way for them to carry out their workflow.
Understanding the user
Research and Interviews: we conducted a number of interviews with users of varying roles and experience across our current client base. As well as users who had never used Cintra software before. This range in experience (both product and role) allowed us to discover traits and challenges that aren't specific to our current product. We avoided only learning from experienced users who, over the years, may have developed new ways of working to get around core challenges to their roles that are specific to Cintra.
Identifying the problem: we quickly identified that it is time consuming and difficult to view and analyse key data that is vital in processing payroll. Although the data is available, it is often hidden in reports and therefore goes undetected. Some of this important data could potentially prevent the payroll from being processed. It could also lead to incorrect payments and deductions, directly affecting employees, all of which contribute to a poor experience.
The solution: when we dug into the type of core information that could potentially be brought to the surface of the payroll, we learned that total net/gross pay, new starters/leavers indicator, and pay variance indicators are the key common pieces of data that should be made more prominent in order to better aid the process.
Conclusion: This is something so simple but potentially incredibly powerful as it has the ability to reduce the amount of time and effort that users have to spend processing payroll. By increasing the prominence and visibility of this data it reduces the chances of future error which in turn should reduce the frustration and stress levels that some users are currently experiencing.
Designing software which gives clients what they need:
We set about designing a concept for the payroll view, that focused not only on the core goals of this part of the system but also on surfacing key information that would address some of the problems discovered during the research stage. The Cintra Design System, allows us to rapidly prototype high-fidelity mockups and get early concepts in front of users for feedback and iteration.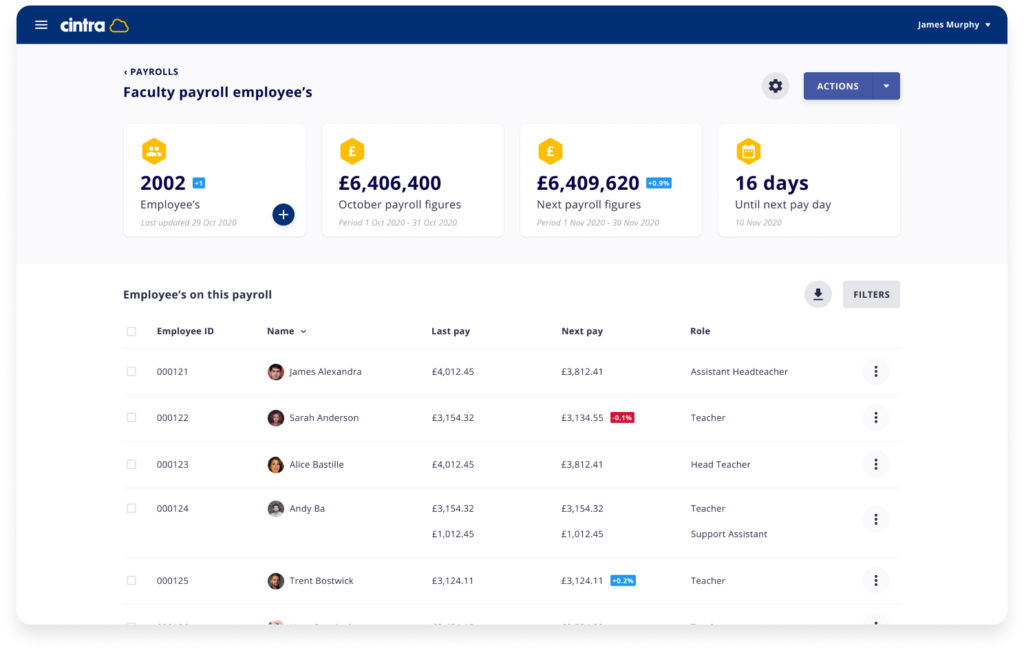 Early feedback of this was incredibly positive:
"This is going to save us so much time"
"This will have a huge impact [on our workload/processes]"
"This is key to quickly understanding change"
Users then explained how else they would use this information day-to-day and how it could be improved further. The question of 'can we filter and sort?' by pay variance came up numerous times throughout the sessions. We took this information and further validated the ideas with a wider pool of users. This resulted in an expansion of the initial concept and adding additional functionality to the payroll page:
The pay variance lozange was made more prominent with detailed tool tips. It was given its own column in the data table, to allow the user to sort by size.
The addition of filter options was added to allow the user to only display employees with a pay variance (seen below).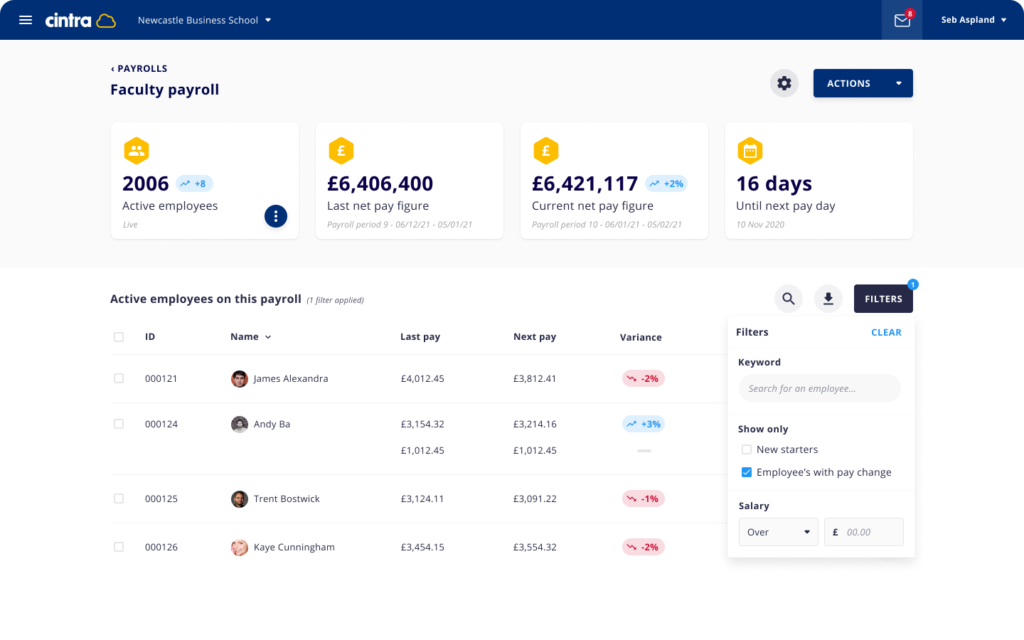 Following further feedback on this concept, we iterated this further to highlight the key filters that users need to navigate their employee data, making it easy to quickly apply key filters like pay variance (seen above).
This has received even more positive feedback:
"Delighted with the vision…huge potential"
"[This is] going to save us so much time that would have been spend reporting"
"Give us this now!"
These features are currently in the early development stages.
By trying to deeply understand our user's goals and challenges, both within the product and their business, we are able to design better more user-centered solutions which can have a huge benefit on the day-to-day use of the product. It doesn't stop there. As part of a design thinking methodology we are constantly looking to learn, define, and iterate, to ensure that our new Cintra Cloud product meets and exceeds the needs of our users.

While we are continuously working to find solutions to our client's problems, that doesn't mean that it is 'finished'. Over the coming months, we will be talking with our users to constantly validate our design decisions. By learning more about our users and the changing technology, we are developing the product to ensure that we are meeting their needs and that the product never stands still.
The Future

The last round of feedback also generated some further ideas that we are looking to validate over the coming months, including: an alert system to notifiy the user of any big variance change, a pay variance sign off feature, and more advanced filtering and sort tools.
Would you like to be part of our user group and future research sessions where you can have real input into the development of our software? Click here to contact us and register your interest.