Big hearted Cintra HR & Payroll Services have been at it again. Seldom a week goes by without a worthy cause being acknowledged in the Cintra offices, but at Christmas time staff really do go all out to help as many of those in need as they can…and this year is no exception.
Indeed, the Cintra elves have excelled, supporting five initiatives designed to bring festive cheer to those in need.
The Customer Experience Team have adopted a real hands on approach, decorating the young adult's room at St.Oswald's Hospice, a local charity who provide specialist care for those with life limiting illnesses. St. Oswald's is a self-financing, voluntary organisation and over £7.5 million must be raised each year to ensure that care is available to everyone who needs it, so having the time and resource required to make communal areas Christmassy is a tall order…and that's where Cintra stepped in!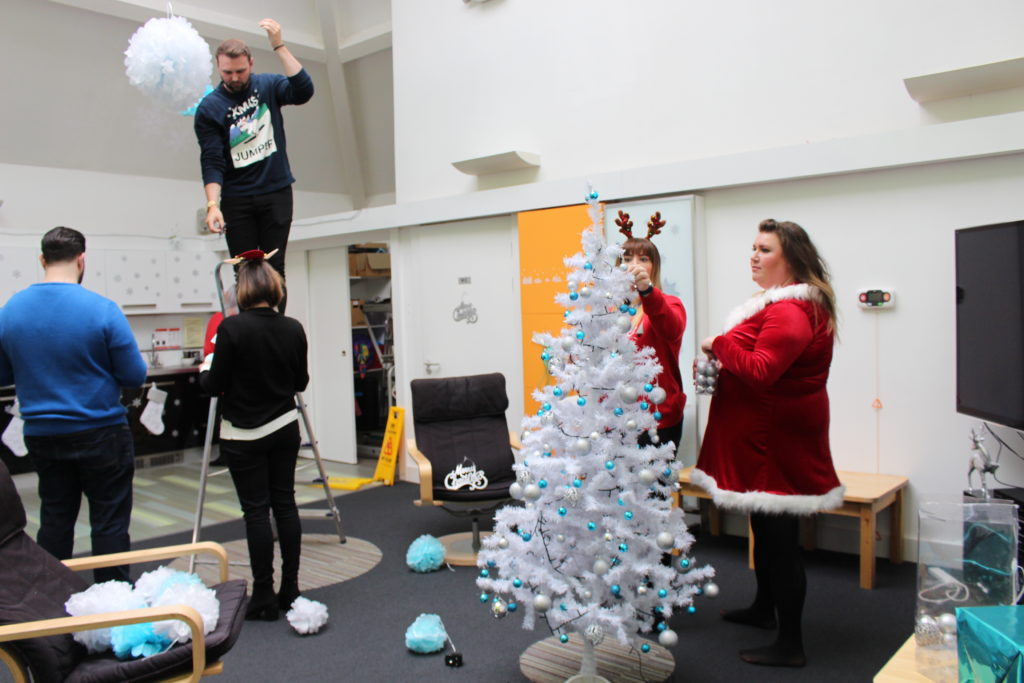 Customer Experience Co-ordinator, Chelsea Ewbank said: "When we first became involved with St. Oswald's Hospice we were overwhelmed, not just by the standard of care provided but by the genuinely remarkable people behind that care. We are delighted to spread a little Christmas cheer by decorating the young adult's lounge area…it's been a test of our logistics and creativity as it's a great, but challenging, space to decorate. The smiles on the faces of the children who visited us while we were at the hospice truly meant the world to us and we are so pleased that they were happy with the final result"
The team are also primed to decorate a fundraising bus for The Chronicle Sunshine Fund: a North East based charity that enhances the lives of local children with disabilities, by funding equipment to meet their specialist needs. The bus will occupy a prime spot in the city centre and double as a Santa's grotto, where children can visit Santa free of charge.

Accounts Assistant, Sarah Burn has collected a mountain of toys and gifts for the Metro Radio 'Mission Christmas' initiative. Mission Christmas is an appeal designed to support the 1 in 3 children living in poverty in the region, who, without the help of generous folk like the staff at Cintra, would wake up without a present to open on Christmas Day. It is estimated that this affects a staggering 45,000 children in the North East. Thanks to the bulging sacks of gifts gathered at Cintra and by others around the region, we hope that that number will now be significantly less.
Affable Accounts Assistant and all-round lovely bloke, Shaun Lowery has spearheaded a collection of selection boxes for the Newcastle Foodbank and Carsten's long-suffering PA, Alex Ford has encouraged support for the 'Making Winter Warmer' appeal, getting colleagues to donate winter coats, hats, scarves and gloves.
We sincerely hope that our efforts will go a long way to making Christmas merrier!