Payroll and HR Analytics Software
Understand your workforce like never before with payroll and HR analytics spanning payroll, performance, planning, culture and more.
A complete view of your workforce with integrated payroll and HR analytics
Get straight to the heart of your biggest workforce challenges with powerful HR data and people analytics. Our payroll and HR analytics software gives you a complete view of your entire organisation, so you can focus on what truly matters most. Simple, insightful, effective.
Cintra Groups has been imperative in understanding how to differentiate between our departments within our business. It has supported us in understanding our payments each month and a great tool for budget management. It also allows our managers to have more autonomy over their own groups and expenditure.
Your payroll analytics suite
Powerful payroll reporting as standard
Get the numbers you need to make better decisions about your payroll. All our solutions are powered by cloud-based software, giving you access to intelligent reporting. Including:
Real-time payroll analytics with Cintra Groups
Turn your managers into payrollers and unlock a real-time window into your entire payroll cycle. With managers and payrollers working together in one centralised platform, you'll access:
We'll show you Cintra's cloud-based software, and you tell us about your needs and challenges. Together, we'll find the perfect payroll and HR solution for your organisation.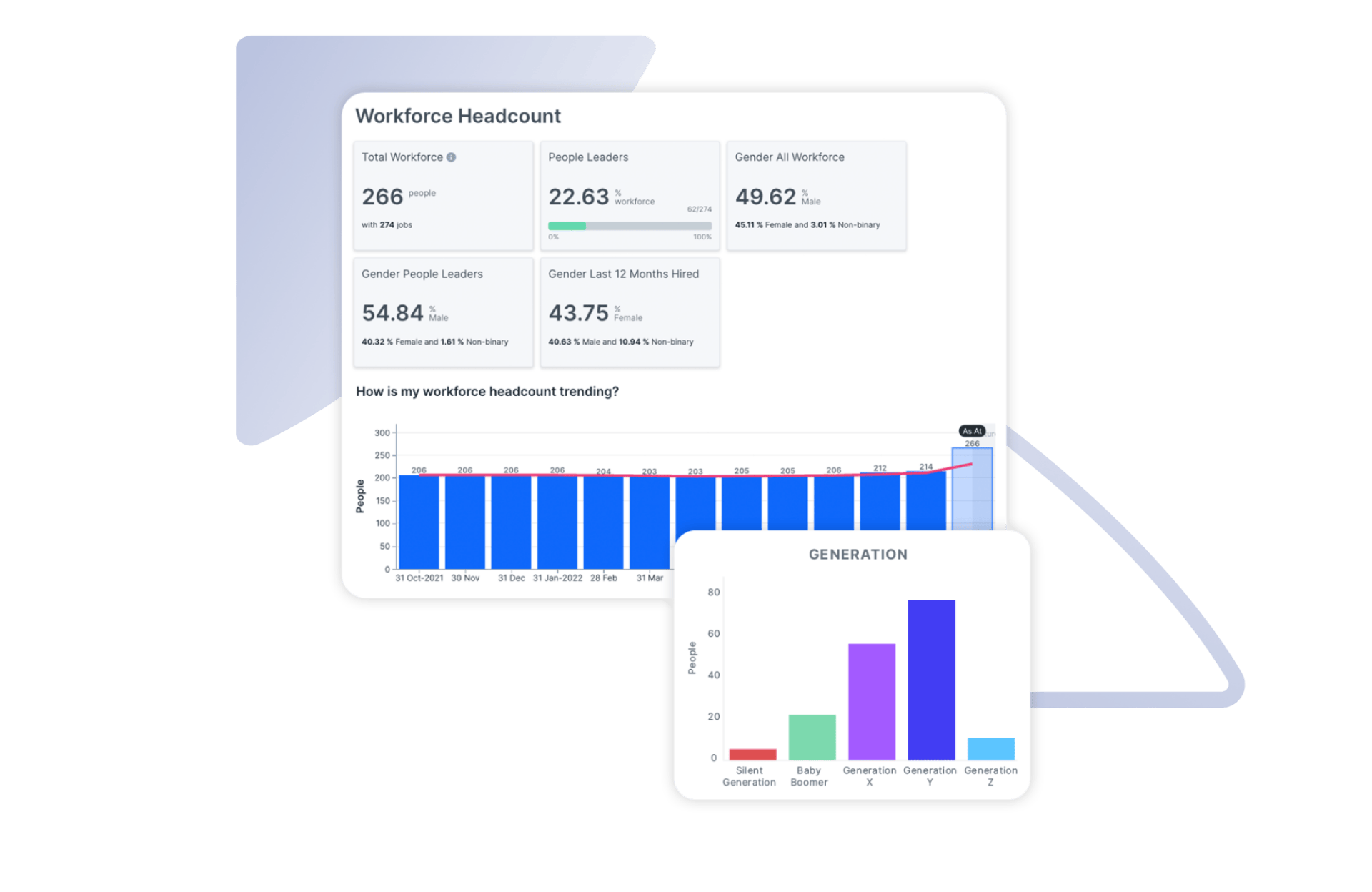 Powerful people analytics at every stage
Never miss an insight that needs your attention with AI-powered HR data analytics. Gain advanced visibility over the metrics that matter most to your organisation, with over 30 built-in reports including:
Bring your HR data analytics to life
Bring your people analytics to life with intuitive and shareable graphs to clearly engage your teams and leaders with HR data. Our HR analytics software allows you to: 
Cintra work closely with us to understand our requirements, provide solutions, and look at ways to simplify and streamline processes. We continue to be impressed by their collaborative approach, payroll expertise, and ability to meet our KPIs which include some challenging deadlines.
Talent Operations and Reward Lead, UCB
Powerful payroll and HR analytics software
Our suite of fully integrated payroll and HR solutions give you everything you need to combine your payroll and HR data access deep, meaningful people analytics. Every organisation needs powerful payroll and HR analytics to make meaningful change—and you'll get that with:  
A fully outsourced or part-managed solution, powered by market-leading software. 
Manage your payroll in-house with Cintra's cloud-based payroll software. 
A centralised platform for managers and payrollers, setting a new standard in payroll. 
A cloud-based HR solution that transforms people and payroll processes in a single platform. 
Payroll and HR analytics FAQs
HR analytics involves gathering, analysing, and applying your HR data—from recruiting, talent management, performance, retention and more—to improve decision-making. 
HR analytics software help HR professionals better understand their workforce by providing advanced insights that allow them to create more engaged teams with better performance—ultimately to benefit the organisation a whole. 
People analytics and HR analytics are terms used interchangeably, and in many contexts mean the same thing. But there can be some differences. HR analytics is more traditionally focused on data related to HR functions and is focused on improving processes, such as recruitment, training, payroll, or compliance. 
People analytics, on the other hand, is used to answer more complex questions. It has a broader view of HR strategy and focuses on areas such as workforce planning, employee engagement, talent development, or predictive modelling. 
HR and people analytics can help you improve every aspect of your people processes when used correctly. Here's a few examples: 
Employee retention: analysing turnover data and help you uncover the underlying reasons for employee departures, so you can create targeted strategies to improve retention.

 

Workforce planning: analytics can forecast staffing needs and help to optimise your workforce distribution, helping you to prepare for future talent requirements.

 

Employee engagement: surveys and other engagement data can be analysed to understand employee satisfaction, and what areas you need to improve to build higher engagement.

 

Performance management: evaluating performance data can identify your high performers and inform the development of targeted training programmes. 

 
Payroll analytics is the process of using data to find trends, patterns, and insights that can lead to more informed decisions and improved payroll processes. This can involve analysing everything from payment accuracy to overtime costs, and employee benefits to cost variances. 
Using payroll analytics will help you to uncover inefficiencies, find potential savings, and contribute to more strategic planning for all things relating to people and payroll.  
When partnering with Cintra, you'll get a real-time view of your payroll data as soon as it's entered into the platform. You'll see instant total costs and variances for your current pay period. 
When using Cintra Groups, you'll also gain a real-time window into your entire pay cycle as managers enter payroll data for their teams.  With Groups, you no longer have to wait for spreadsheets, do all the tricky admin yourself, or wait until month-end to access a view of your payroll via reports. 
Payroll analytics can help you improve the overall accuracy and efficiency of your payroll processes. Here's a few examples: 
Payment accuracy: identifying and reducing errors in payment helps to make sure employees are paid accurately and on-time, while reducing the cost of mistakes.

 

Budget forecasting: with accurate payroll data, you can better forecast future payroll expenses and make more informed financial decisions.

 

Strategic decision making: payroll analytics can inform decisions such as workforce expansion, pay scale adjustments, and investment into employee development.

 

Pay equity: analytics can be used to audit and ensure equitable pay across your organisation, addressing disparities and promoting fairness.

 
We'd love to hear from you
We're always on hand to discuss your unique challenges. And we'll show you our payroll and HR analytics software in action, focusing on how to get the exact insights you need to make a real difference for your teams.