Payroll Outsourcing Services
Swap your time-consuming, manual processes for award-winning payroll outsourcing services with a UK-based team of payroll experts that do the hard work for you.
Make running your payroll a breeze with Cintra's payroll outsourcing services
Whether you struggle with lack of internal expertise or time-consuming, manual processes… Cintra's qualified UK outsourced payroll professionals become a true extension of your team; delivering the hard work for you.
In the seventeen years I have been a customer of Cintra I have seen their business grow bigger and stronger but the customer satisfaction and service they provide remains the same.
Enjoy the peace of mind of a fully managed payroll service
We arm you with our intuitive, modern and cloud-based software to capture your people and payroll data—and we do the rest for you. Make your payroll simpler, smarter and streamlined with Cintra's payroll outsourcing services.
Payroll outsourcing supported by market-leading technology
Say goodbye to inefficient, time-consuming payroll processing. Our online payroll portal is packed with features to speed up your admin, ensure total accuracy, and give you full visibility of your data when you use our outsourced payroll services: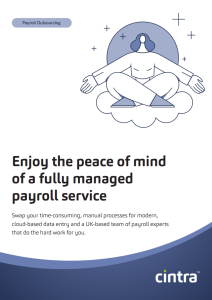 PAYROLL OUTSOURCING BROCHURE
Find out more about Cintra's fully managed payroll services, including the incredible technology we've invested over £10m into in the last three years.
Outsourced payroll that's flexible, scalable and customisable to your needs.
Alongside your fully managed payroll, we can help you with: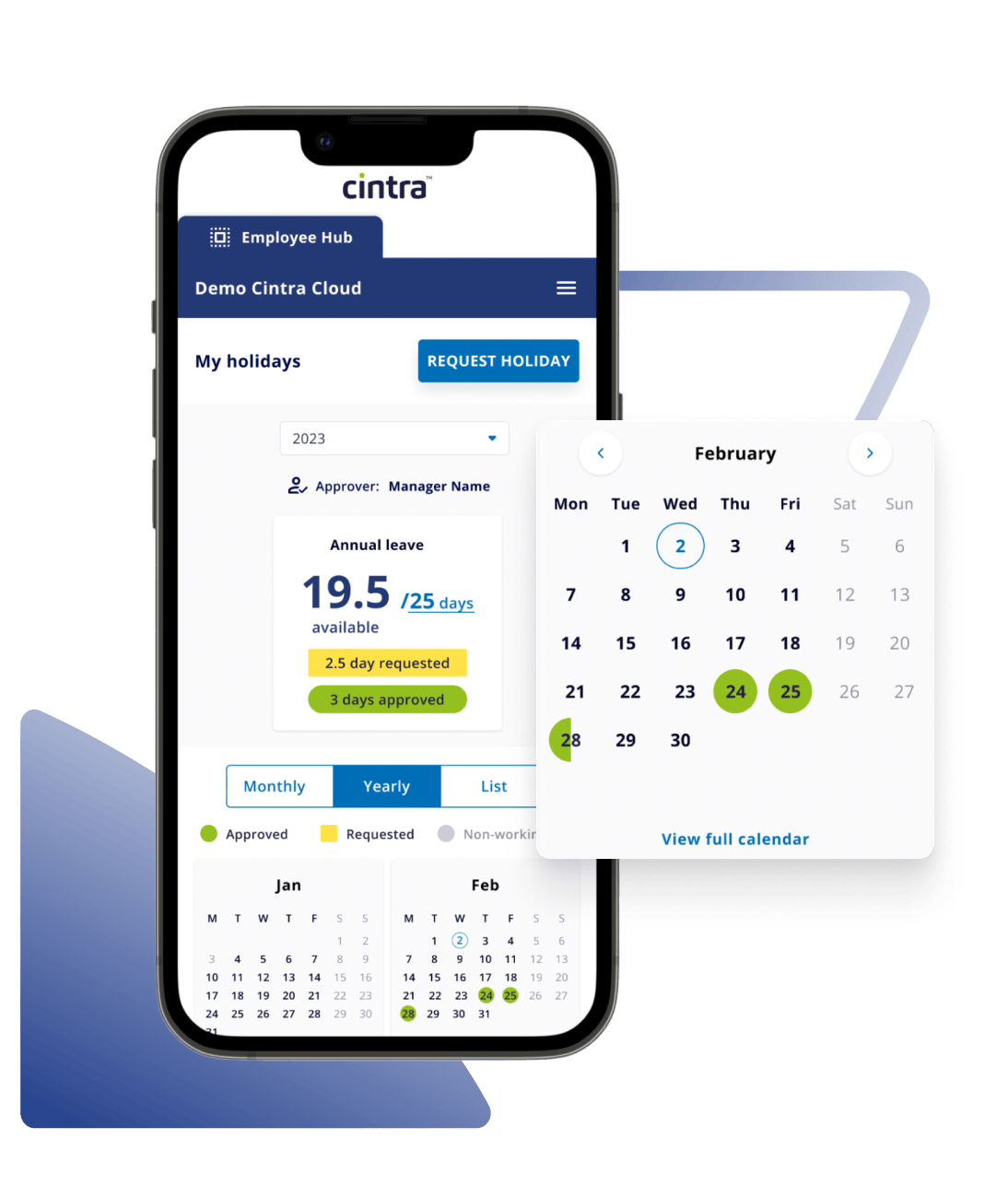 Payroll outsourcing that improves employee experience
Offer your people a unified and branded solution across HR and payroll with Cintra's managed payroll services. Packed with employee self-service options including:
The software is just so usable, you build the system so the data is in the way which you want it! Anything in the system is reportable and you can design the reports yourself. There really is nothing like it on the market!
Cintra Groups is the transformational addition to your fully managed payroll that empowers your managers to own and enter payroll data for their teams—delegating payroll admin across your organisation.
From entering new starters to making contract changes, you'll remove single points of failure, access real-time reporting and get from data to decisions faster.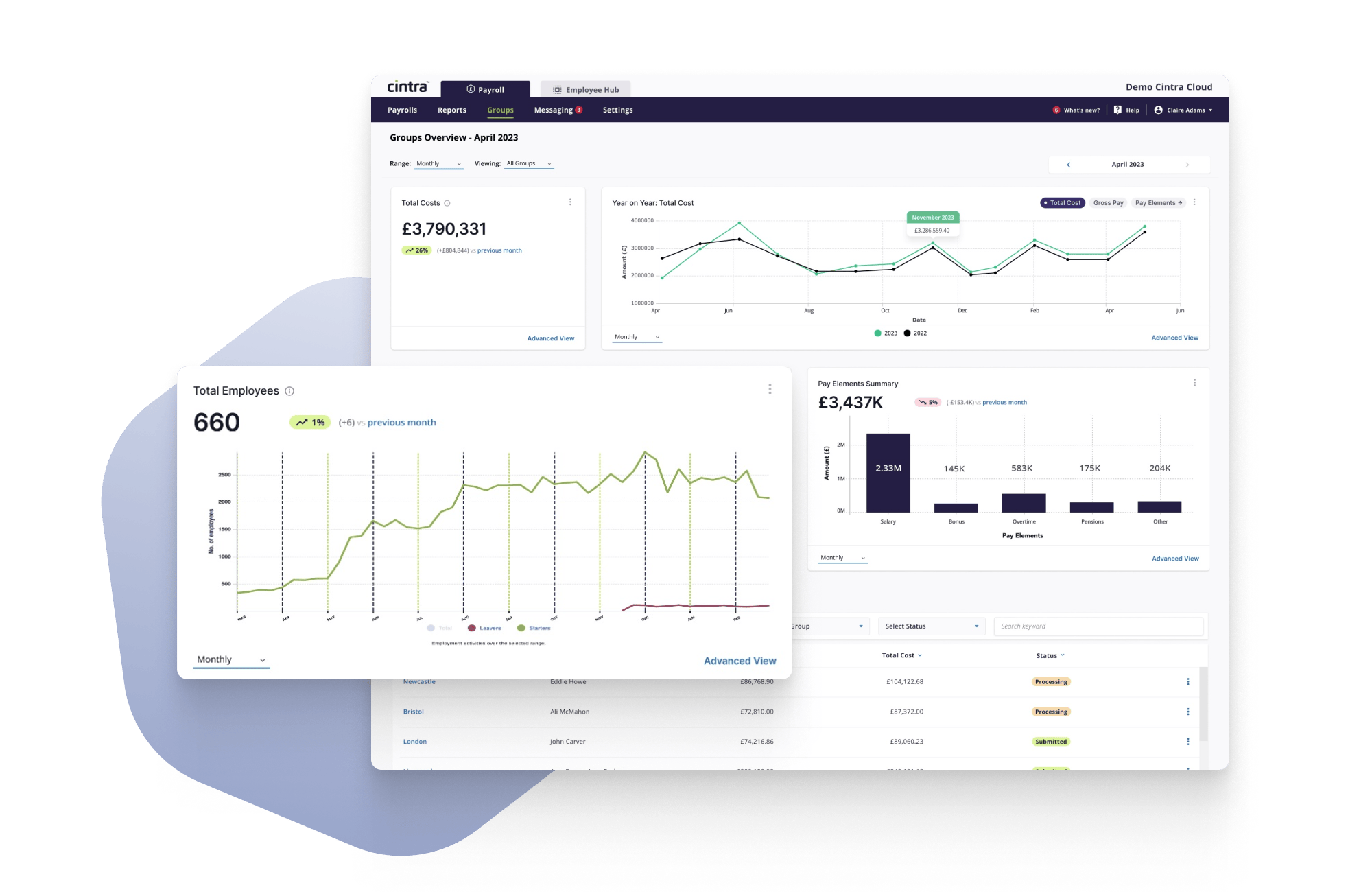 What makes Cintra's payroll outsourcing services different
Our payroll and HR software is used by our very own outsourced payroll team, and a constant cycle of feedback and evaluation has resulted in one of the most evolved systems available. We're proud to offer you a best-of-breed payroll and HR solution that helps your organisation become more efficient and innovative by enhancing your employee experience.
Cintra's large payroll outsourcing team utilise our own software every day
Continuous feedback from our outsourcing team as well as from customers
New ideas and technology incorporated by our in-house engineers
Outsourced payroll is when a business hands over their payroll operations to a trusted payroll provider, like Cintra. You can also outsource additional services, including payroll benefits, auto-enrolment, pensions and P11D submissions. Outsourcing payroll can help you spend more time on your business and less time on payroll tasks and employee training. Payroll outsourcing goes by various names, including fully managed payroll services.
Your payroll will be fully managed by our expert payroll team which means you aren't dependent on one person. This allows processes to be centralised and you stops you being impacted by any changes within your own business.  
Cintra have over 40 years' experience delivering professional payroll and HR solutions and support over 700 customers across all sectors, from public sector to education. What sets us apart is our best-of-breed software, developed inhouse and used by our own payroll outsourcing team. As our software is developed inhouse we able to listen to carefully to customer feedback and make changes, quickly. Cintra were also voted CIPP Payroll Service Provider of the Year 2022.
Cintra is ISO27001 accredited which assures you that at every level, and in every project, information security is our number one priority.
Below is how we keep your data secure when you choose our outsourced payroll services; 
Multi-factor authentication is implemented in Cintra's portal. 

User security: role based access control can be assigned on a per user basis.

Data input: all data is entered via the secure portal, which means you avoid the risks associated with sending data and information via email.

Messaging: our integrated messaging tool allows you to securely communicate with your outsourced services team.  From within the portal you can directly message your OSS team, upload documents and send confidential information. 
The cost of outsourced payroll services vary depending on the specific needs of your company, as well as the number of employees you have. Once we have discussed your requirements with you, we provide a no-obligation quote which outlines in detail the cost of outsourcing your payroll to Cintra. 
Our payroll team works with you to understand your pay cycle and provide a deadline for data submission. Data is securely submitted via our cloud portal. It is possible to import spreadsheets to input employee data at once, avoiding the data risks associated with transferring files via email. 
Latest payroll outsourcing resources
The perfect partner to your outsourced payroll
An end-to-end applicant tracking system which enables you to advertise, assess and recruit faster.
Simple but sophisticated expense management software bringing all your spend together in one easy platform.
A cloud-based, integrated HR solution that helps organisations transform their people and payroll processes within a single platform.
We'd love to hear from you
Our payroll outsourcing experts are on hand to discuss your unique challenges, and show you our outsourced payroll services and software in action.