Your cloud based HR software—bringing together your HRIS, payroll, performance management and employee engagement with powerful analytics.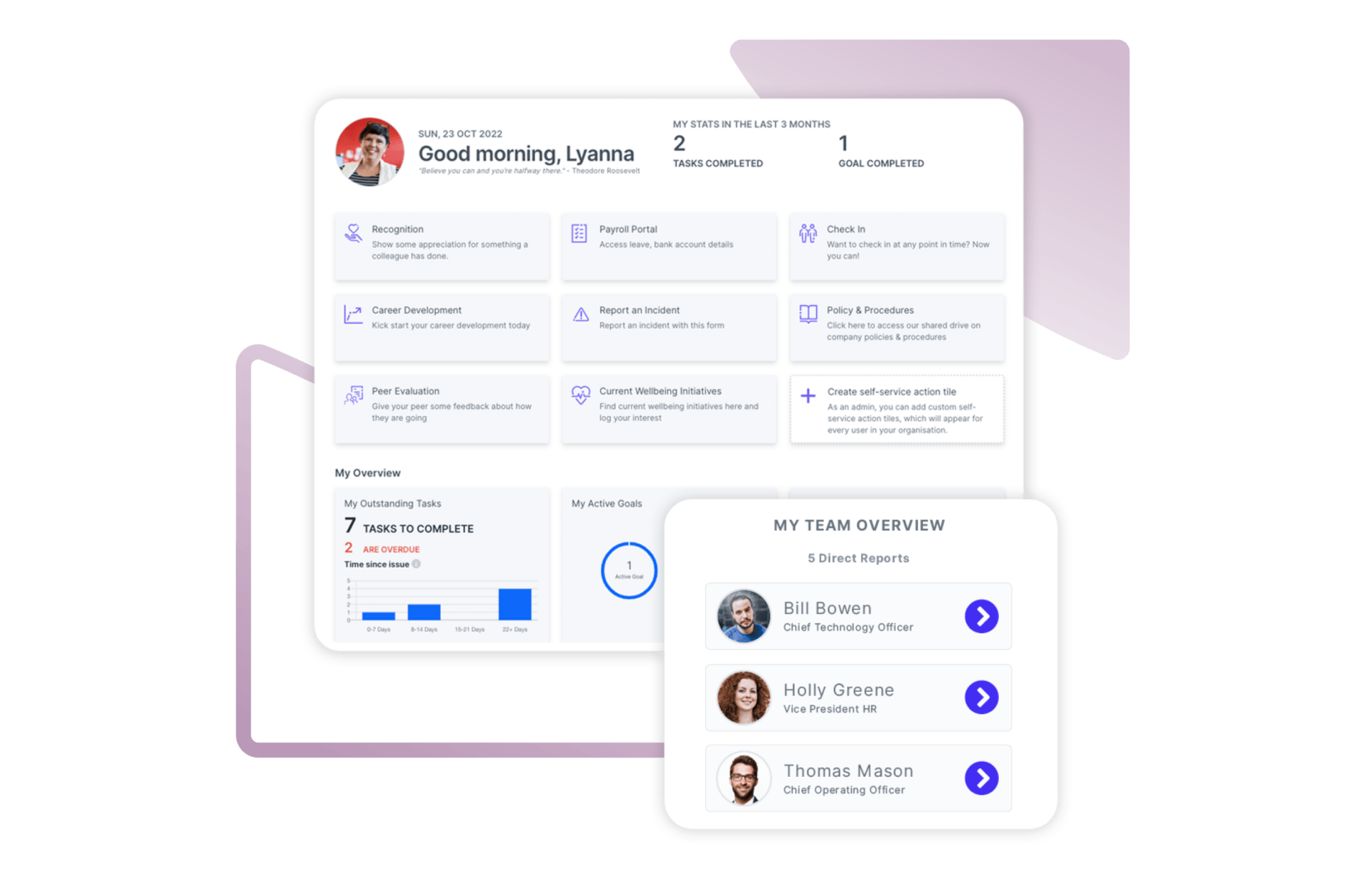 Your HR management system for all your people processes
With all things people management in one place, Cintra's cloud HR software gives you a holistic view of your people while ensuring data accuracy, transparency and efficiency across all of your connected tools.
Being able to digitise previously paper-based processes has been a huge time savings for our team. Our entire performance review process is now automated and delivering significantly more value than in the past, when it was manual and paper-based.
HR Manager
Loreto Sixth Form College
Cloud based HR software that streamlines your people processes
More than just an HR management system, CintraHR simplifies and streamlines the entire employee lifecycle. From onboarding to performance to offboarding, you can automate your processes, build culture, and create a better way to manage your people.
Find out more about the features and functionality in Cintra's HR management system, designed to transform your people processes.
Cloud HR software for your entire HR ecosystem
Our HR management system is packed with best-of-breed features for the entire employee lifecycle. It's cloud based HR software that's built with you, your people, and your challenges in mind.
HR software for every organisation
There's a version of CintraHR for every organisation, no matter your needs. You choose what features you pay for so your HR management system is tailored to your unique goals and challenges.
A 360° view of your entire organisation
Gain a complete view of the metrics that matter most to you. Your HR management system gives you access to best-of-breed HR and people analytics, including:
What makes Cintra's HR software different
Our payroll and HR software is used by our very own outsourced payroll team, and a constant cycle of feedback and evaluation has resulted in one of the most evolved systems available. We're proud to offer you a best-of-breed payroll and HR solutions that helps your organisation become more efficient and innovative by enhancing your employee experience.
Cintra's large payroll outsourcing team utilise our own software every day
Continuous feedback from our outsourcing team as well as from customers
New ideas and technology incorporated by our in-house engineers
The perfect partner to your HR software
Manage your payroll in-house with Cintra's cloud-based payroll software, fully integrated with our cloud HR software.
A full-or-part-managed payroll service, powered by market-leading software and fully integrated with HR.
An ATS that empowers you to advertise, assess and recruit faster—fully integrated with HR.
We'd love to hear from you
We're always on hand to chat through your unique challenges, and show you how we can tailor our HR management system to your specific goals.